Who doesn't love an old, clunky spaceship that can outrun the emperor's own finely-tuned fleet? I enjoy seeing LEGO models of Han Solo's Millenium Falcon, but there are few versions that I have enjoyed more than Chris Walley's micro-scale.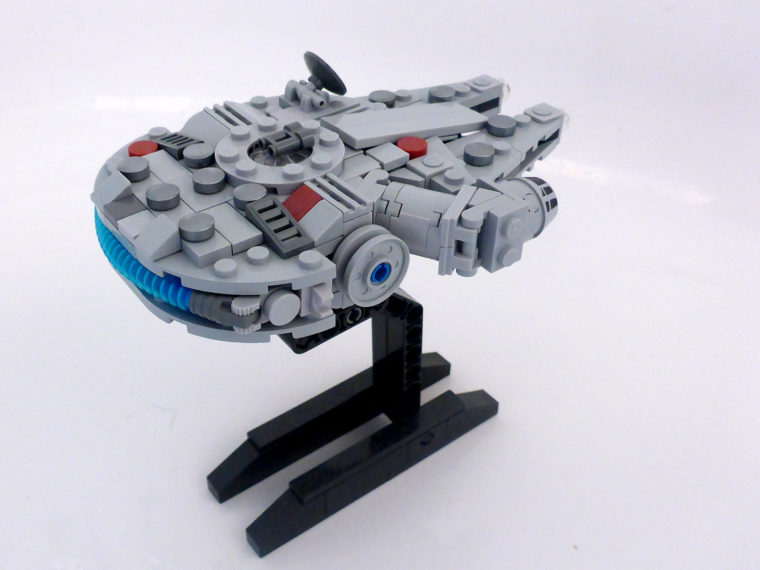 I asked Chris for three tips on how to build a beautiful micro-scale, and the last of his answers really surprised me.
1. Reference.
I always try to gather as much reference material as possible before embarking on a build, usually by using Google Image Search. I collate the best reference images into an album on my iPad. During the building process I set the iPad next to me, making it really easy for me to constantly refer to.
Working from reference, no matter what you are building/creating (and no matter what medium you are working in) is a system that I would encourage. No matter how familiar I think I am with the source material, I always find details in the reference that surprise me.
2. The Key Piece.
I find it very helpful to try and start my builds based off a key LEGO piece which I've decided is the most important piece of the build. In the case of the Micro-scale Falcon, it was the cockpit brick. The model was built out from this key piece and all other design and scale decisions naturally followed as a result.
3. Build Messy / Happy Accidents.
Many people prefer to use LEGO Digital Designer (LDD) or seem to have very tidy LEGO building desks. Obviously that technique works well for them, but personally I 'build messy'.
By this I mean, as well as having much of my LEGO sorted into small cabinets, I let my building desk accumulate during a build with lots of different pieces which inspire me. Ninety percent of them don't get used in the build but occasionally when I'm trying to determine the best piece to use next, a random piece on my desk will catch my eye. It won't have been my obvious choice but in this way, 'happy accidents' can come about.
By organizing my work space in this way, I attempt to nurture these happy accidents as they almost always improve the build.
Surprised
Chris may "build messy," but ironically he presents some of the cleanest builds I have seen. One last tip we can take from Chris is using a minimalist approach when building small. Why use two pieces when one will do? His streamlines models and uncluttered backgrounds make for a sharp impressive on the web.
Save
Save
Save
Save