Firsts are important. I still remember riding a bike for the first time – it left a lasting impression. Learned skills become automatic, but passing those skills along to others is more difficult.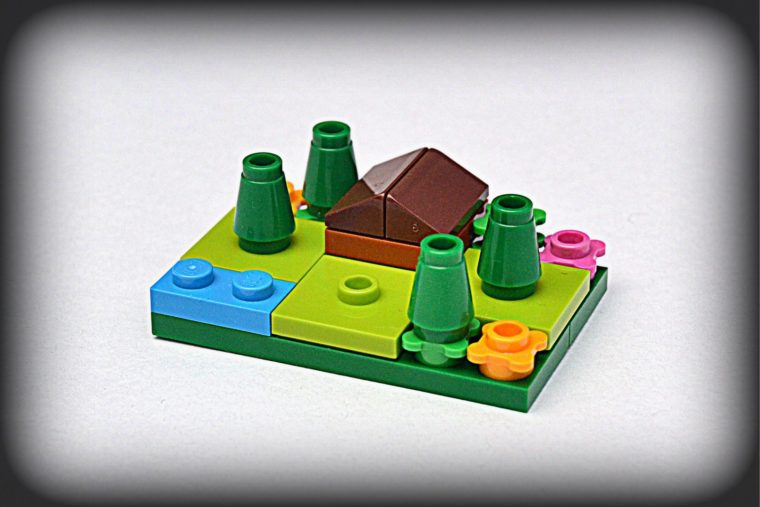 As a father of three young children, I have been looking for activities that my whole family can enjoy. Lately I have been taking some time with my three-year-old to play with LEGO from Classic set 10698. I'd like to share 3 tips that led to this little model.
Set Boundaries
As much as LEGO fans may envy those with the biggest stashes of plastic bricks, fans should realize that limited resources are an opportunity for innovation. Choosing a 4×6 plate, my model was naturally achievable from the very beginning.
Choose a Theme
Ask yourself what scenes you enjoy. I love landscapes. As a land surveyor and map maker, I appreciate natural settings and wanted to build one. If you enjoy space exploration, consider building a tiny shuttle, a satellite, or a moonscape. Without an idea, you have nothing to make.
Simplify and Reduce
Through following LEGO blogs, I noticed that 1×1 green cones make excellent pine trees, so I pulled some from the pile of bricks and planted a forest.
The best storytellers don't get bogged down by the details. In the same way, an artist must sometimes look past the details to convey the spirit of a scene.
Now Start With Observing
Take another look at the micro cabin scene. It's simple enough that anyone can do it. Look at it and verbalize the features that you enjoy most. Imagine being there. Next time you're snapping together LEGO with you kid, you may even have some fun of your own.